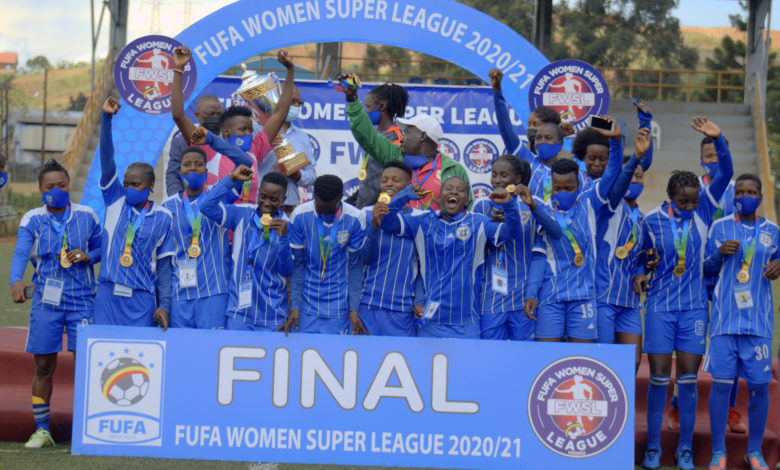 By Emmanuel Kizaale
Lady Doves have won this year's inaugural FUFA Women's Super League with a 2-1 victory over last year's champions, the UCU Lady Cardinals.
Elizabeth Nakigozi's first-half spot kick goal and Fazila Ikwaput's late Strike were enough to hand Lady Doves a victory over UCU Lady Cardinals during the final game at Njeru Technical Centre in Jinja.
The game started in high momentum with the Lady Cardinals hitting the woodwork thrice in the opening minutes of the game. However, the energy seemingly reduced as the game progressed, with neither teams managing to create more chances.
The breakthrough came in the closing minutes of the first-half when the Doves were awarded a penalty, which Elizabeth Nakigozi smartly placed eluded the Cardinals' goalkeeper.
Sarah Kisakye of the Cardinals headed Hasfa Nassuna's cross to level the score in the 75th minute, before Fazila Ikwaput came on to score in the 84th minute, inspiring the Doves to a historic win.
Lady Doves became the first team in history to clinch the FUFA Women's Super League.
The tournament closed with an award-giving presentation by the President of the Federation of Uganda Football Association, Eng. Moses Magogo.
Isla Soccer academy was awarded with the fair play award while the Golden gloves award went to Doves shot-stopper, Nakaziro Daisy.
Both the Golden Boot and the player of the Tournament awards went to Lady Dove's Forward, Fazila Ikwaput, who finished with an amazing eight goals in the tournament.
+++++++++++++++++++++++++++++