Feature
UCU, Next Media Services move closer to formalize partnership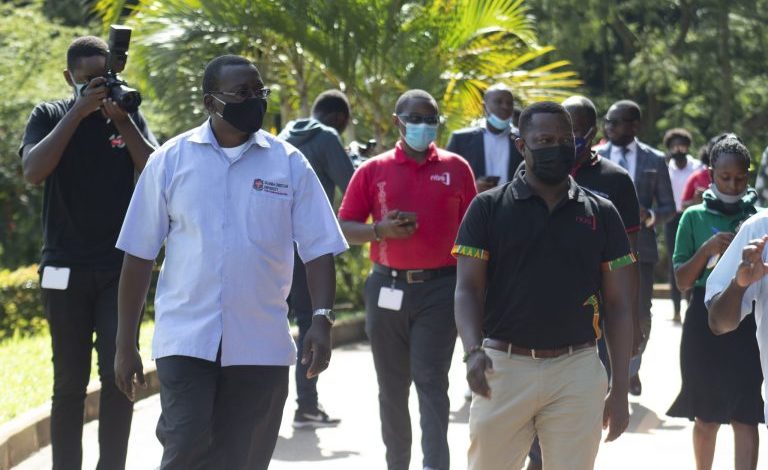 By Michael Kisekka and Yasiri J. Kasango
Next Media Services and Uganda Christian University (UCU) are mooting a formal partnership where the two parties will support each other in developing journalism and communications in the country. Skilling students, conducting joint research on communication-related issues and content development are some of the areas where the media house and the university will channel their energies.
As part of the activities towards the formalisation of the partnership, the Next Media Services team, led by their Chief Executive Officer, Kin Kariisa, visited the UCU main campus on May 20 and held a formal engagement with Vice-Chancellor Assoc. Prof. Aaron Mushengyezi and other top university officials. Next Media Services is the parent company of NBS TV, Next Radio, the Nile Post news website, Sanyuka TV and Salam TV.
The May 20 meeting follows an earlier one in March, where Mushengyezi and his team visited the Next Media Services offices in Kampala. In the March meeting, Next Media Services committed to opening its doors to some UCU students to conduct internships at the media house.
Frank Obonyo, the UCU Communication and Marketing Manager and one of the March attendees, explained that the potential partnership included student training as well as assistance with "publicising UCU programs and success stories, plus offering staff of Next Media Services the opportunity of guest lecturing."
During the May visit, the Next Media services team engaged in activities such as meeting student leaders, attending the university's bi-weekly community worship and giving inspirational talks to students. Both Kariisa and Mushengyezi addressed the UCU community during community worship at Nkoyoyo Hall. The two parties later engaged in a soccer game, which ended 3-0 in favour of UCU.
"We are looking forward to having some of our staff and students coming to Next Media Services to have hands-on training; we are certain this will benefit them a lot," Mushengyezi said.
Kariisa noted that the partnership "we are putting together is exciting, bringing practicality to theories while exposing Next Media Services to great potential in talent." Kariisa also talked about the depth in quality of the UCU journalism graduates on the market, noting that Next Media Services has found it worth employing them. The media house employs more than 40 alumni of UCU, according to Kariisa.
"Many times, we employ young people, but after giving them jobs, they get bored; they don't even last three months," Kariisa said. "They complain, they don't have interest and are not groomed to work in those solid organizations. We need to work together to turn this around."
The UCU Alumni Association chairperson, Emmanuel Wabwire, is optimistic the partnership between UCU and Next Media Services will "help us establish the association's relevance, presence and vibrancy among the UCU fraternity as well as outside the university."
Obonyo said the next step to move the partnership forward is a formal Memorandum of Understanding (MOU). He said the signatures on the MOU should be in place by August.
"We already have a draft copy, which we shall send Next Media Services soon," Obonyo said, adding that this collaborative further enables UCU to offer its students a holistic and productive education.
++++++++++++++++++++++++++++++++++++++++++++++++++++++++++++++++++++