Feature
UCU Honors College: A hub hatching undergraduate projects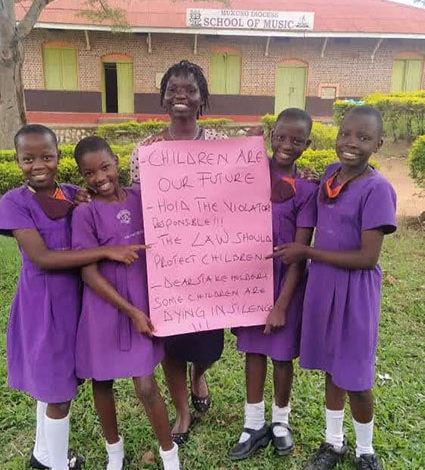 By Eriah Lule and Jimmy Siyasa
Christian mentorship. Leadership. Academic research. These are the three core goals that define Uganda Christian University's (UCU) Honors College. The 19-year-old college, whose concept is borrowed from the Dutch and American universities, admits only the institution's crème de la crème students from the different faculties. 
Applicants must have at least a 4.0 Cumulative Grade-Point Average (CGPA) out of 5.0 to be enrolled to the college that offers talented students the opportunity to tap on their mettle through an extra certificate-program, alongside the regular bachelor's degree course.
The college, which is the brainchild of Prof. Stephen Noll, UCU's first Vice-Chancellor, offers a multidisciplinary approach to scientific and social issues, which helps to enrich students' projects and research.
Pamela Tumwebaze, the new head of the college, has hit the ground running, by grouping
students based on their interests, using invited guest lecturers and mentors to speak to the students and holding weekly workshops. Before her promotion to head the Honors College, Tumwebaze was the Executive Secretary of the UCU Deputy Vice Chancellor for Academics.
"I want to utilize the full potential of our students, by encouraging them to create solutions for the social problems that people face, through research," she said, noting that it is such initiatives that will "lift the college to greater heights."
Juan Emmanuella Zamba, a student of Bachelor of Human Rights, Peace and Humanitarian Intervention, has designed a project called Trash into Cash, which she hopes will be able to solve the challenge of high youth unemployment. Zamba collects inorganic waste, such as plastic and paper, which she uses to make jewelry and wall hangings.
"Honors College has enabled me to explore my potential and capabilities, through mentorship provided by the guest lecturers and our college staff,'' Zamba said, adding: "I am now thinking of making my project a real business, so that I create employment to the youth, as well as skilling them."
Thanks to the Honors College, Chemutai Syndia, a 21-year-old fourth-year student of Bachelor of Laws, is currently working to combat sexual violence against children through advocacy. At Bishop West Primary School, located near UCU, Chemutai counsels children and also sensitizes them on the avenues through which they can report child-rights offenders. She also takes advantage of the opportunity to sensitise the teachers about the benefits of creating a favourable environment for their pupils, to share their challenges.
Members of a group project called Share a Skill, spearheaded by Miriam Obetia, a second-year student of Bachelor of Human Rights, Peace and Humanitarian Intervention, went to West Nile early this year, where they engaged children, especially who had dropped out of school during the 2020 Covid-19 lockdown, in entrepreneurial skills.
Tumwebaze believes her tenure of service is a God-given opportunity to boost UCU's undergraduate research and she has already started on this by making calls for proposals for projects from students. She believes her ultimate reward will be when students succeed by making a career out of the projects they will have championed.
++++++++++++++++++++++++++++++++++++++++++++++++++++++++++++++++++++