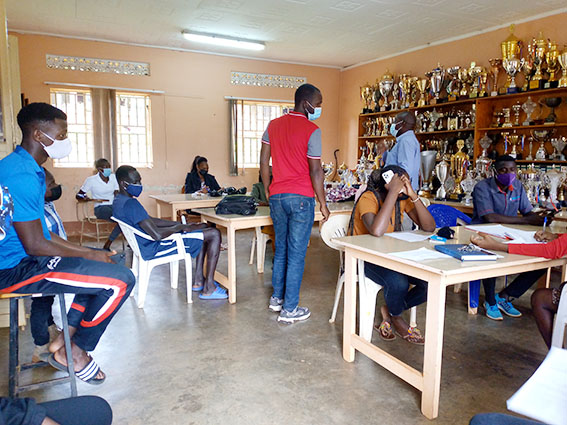 Story and photos by Yasiri J. Kasango
As of early September, 50 Uganda Christian University (UCU) students who participate in sports had received their Covid-19 jabs.
The vaccination administration for nearly all UCU students on sports teams took place on the Mukono campus to enable these students to participate in the forthcoming major leagues in the disciplines of basketball, football, volleyball and netball. Some of leagues were expected to start as early as mid-September.
Speaking about the vaccination that was conducted by the Mukono district health officials, in conjunction with the university health team, Dr. Geoffrey Mulindwa, the Director of Medical Services at UCU, said the university management chose to prioritize sports students to protect them against the pandemic.
"They come into contact with so many other people during the games and, to ensure their safety, they were prioritized in the vaccination," Mulindwa said.
He advised both students and staff members who have not yet gone for the Covid-19 vaccination to do so. Many of the vaccination centers in the country are giving priority to teachers, non-teaching staff and students who are 18 years and above because government has pegged the re-opening of schools to sufficient vaccination.
Uganda started vaccination on March 10, but many people have not been able to get their jabs because of the few vaccines available. By the end of August, reports indicated that 1,376,986 doses of Covid-19 vaccines had been administered, especially to priority groups of teachers, non-teaching staff in schools, journalists, security personnel, medical workers and people with underlying comorbidities.
Out of those, 977,889 people had received their first jabs and 399,097 have completed their two doses. Uganda has 44 million residents.
The Mukono district malaria focal person, James Kawesa, who represented the district medical team at the vaccination at UCU, said people can only get back to their pre-Covid lives if the population gets vaccinated.
The UCU vaccinated students welcomed the initiative. Faith Apio, a student pursuing the Diploma in Business Administration and a member of the university's female football team, the Lady Cardinals, said she sought vaccination in order to protect herself and others on the pitch.
Cranmer Wamala, a third-year student of Bachelor of Human Rights, Peace and Humanitarian Intervention and a basketballer on the UCU Canons team, noted that he was eager to receive the vaccination so he can remain on the school team.
He also noted that seeking vaccination would help him to continue with his studies.
Samuel David Lukaire, the head of the university's sports department, said many of the national leagues were expected to start in mid-September.
+++++++++++++++++++++++++++++++++++++++++++++++++++++++++++++++++++++